Environmental Protection Commitment
PWTransit recognizes environmental protection as one of our guiding principles and a key component of sound business performance. We are committed to providing a quality service in a manner that ensures a safe and healthy workplace for our employees and minimizes our potential impact on the environment. We are fully compliant with all legislation, regulations, standards, policies and procedures governing environmental management and we strive to use pollution prevention and environmental best practices in all that we do. 
At PWTransit we:
Integrate the consideration of environmental concerns and impacts into all of our decision making and activities.
Promote the efficient use of materials and resources throughout our facilities, including water, electricity and other resources, particularly those that are not renewable.
Reduce waste through re-use and recycling and by purchasing recyclable or refurbished products and materials where these materials are available, economical and suitable.
Strive to continually improve our environmental performance by periodically reviewing our environmental policy in light of our current and planned future activities.
Promote environmental awareness among our employees and encourage them to work in an environmentally responsible manner.
Avoid unnecessary use of hazardous materials and products, seek substitutions when feasible, and take all reasonable steps to protect human health and the environment when such materials must be used, stored and disposed of.
Regularly communicate our environmental program to our employees, customers, and the public and encourage them to support it.
Train, educate, and inform our employees about environmental issues that may affect their work.
Purchase and use environmentally responsible products that have been selected on criteria including low toxicity or environmental hazard, durability, use of recycled materials, reduced energy and water consumption, reduced packaging and ability to be recycled, refilled or refurbished at end of life.
Where required by legislation or where significant health, safety, or environmental hazards exist, develop & maintain appropriate emergency spill response programs.
Environmental Management System
As part of our Environmental Protection Commitment program, we will obtain assurances in writing from the existing facility owner that the property is free from any existing environmental liabilities. Prior to taking possession of a property, PWTransit will assess what level of environmental assessment is appropriate for the site and circumstances.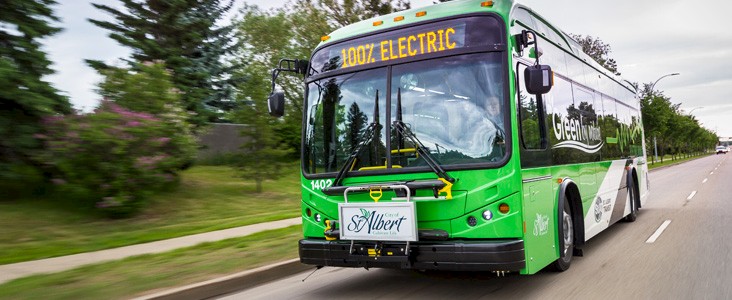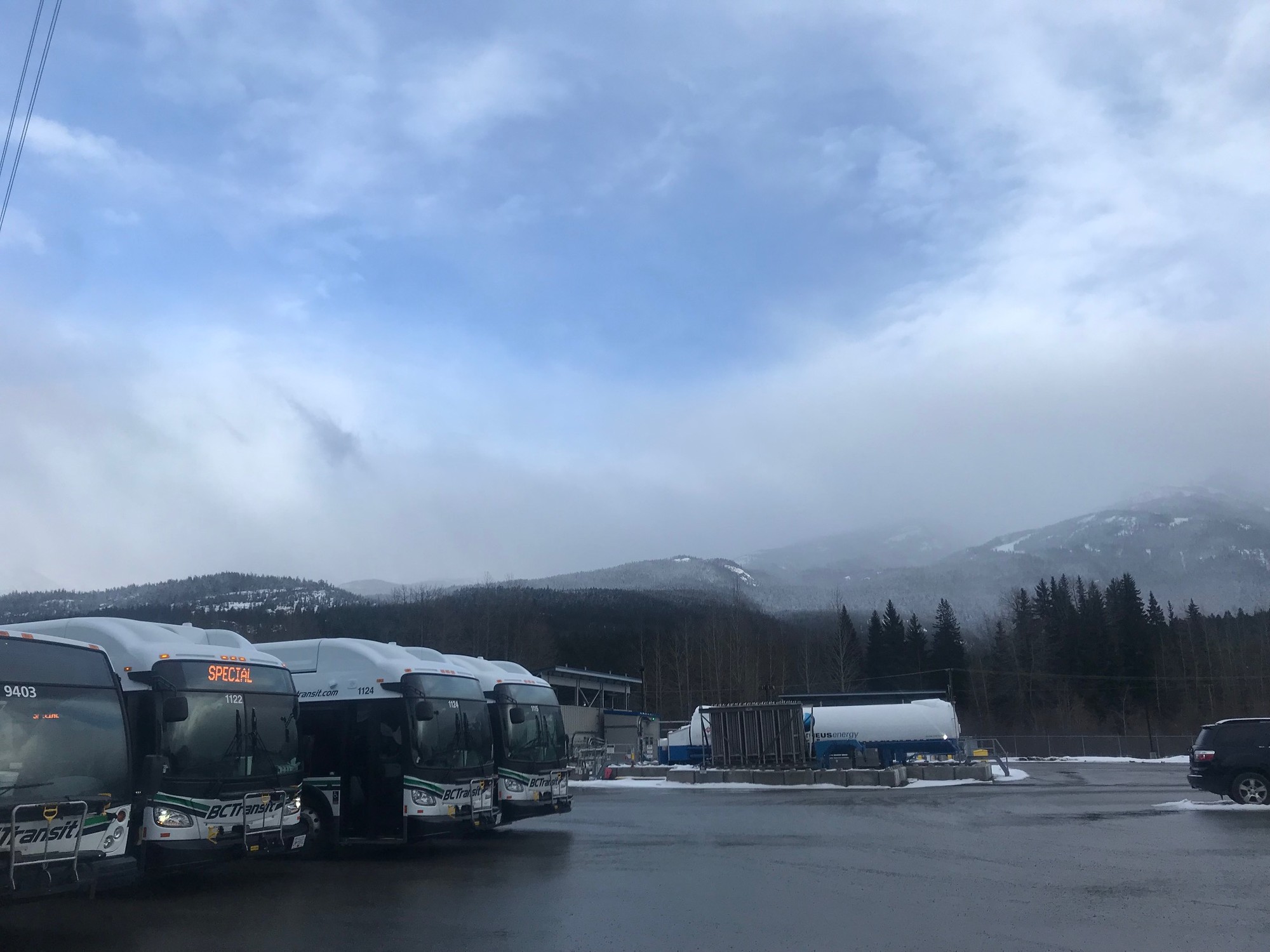 Hydrogen Fuel Cell Project
As part of a joint Federal and Provincial pilot project Whistler Transit Ltd. (a division of PWTransit) was responsible for operating and maintaining 20 Hydrogen Fuel Cell buses; the largest fleet of its type in the world. This state-of-the-art fuel cell technology produced zero carbon emissions and emits only H2O (water vapour) as exhaust. The annual reduction of 2,200 tonnes of carbon released into the atmosphere as compared to conventional diesel buses, the safer regenerative braking system, and an exceptionally quiet electric motor, result in these hydrogen fuel cell buses being a tremendous leap forward in green technologies.
Electric Buses
PWTransit proudly operated St. Albert Transit's new, state-of-the-art, battery-powered buses – Canada's first municipally-owned, long-range electric buses.
The new buses are now in operation and are currently being deployed throughout the network on both local and commuter routes. Drivers and service technicians have now been trained on the unique operation and characteristics of these new vehicles.  Residents will notice the quieter operation of these buses compared to the diesel buses.  They are slightly smaller than a regular sized bus and have slightly fewer seats (32 seats vs 37 seats in a regular bus).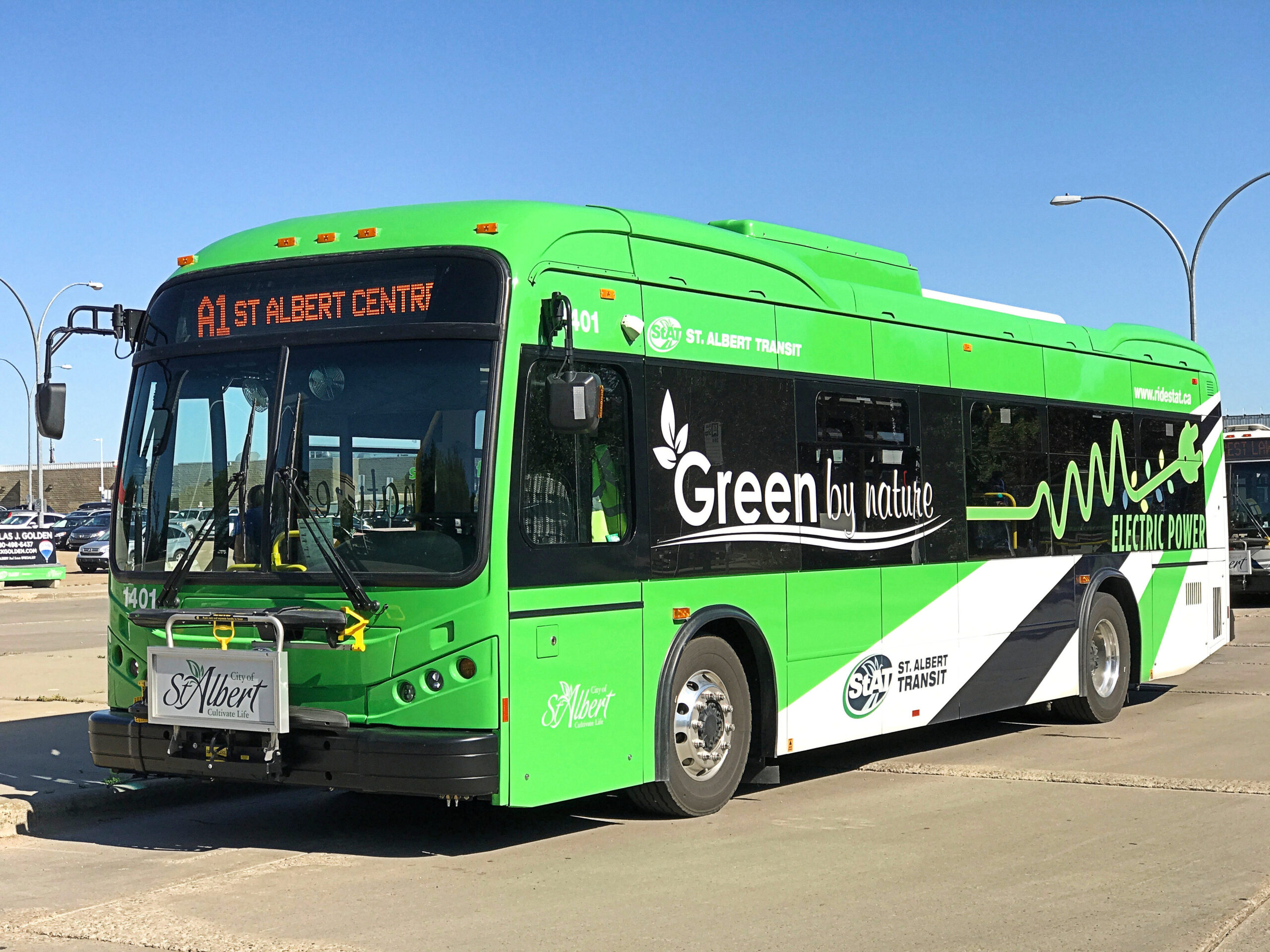 Environmental, Social and Governance (ESG) Position Statement
Pacific Western Group of Companies ("PWT") recognizes that Environmental, Social and Governance ("ESG") factors represent both risks and opportunities for our business and key stakeholders – including our employees, customers, partners, and the communities in which we operate. We recognize that the way that we manage ESG factors has a direct link to the success of our business given the importance of ESG factors to the global transportation industry. As a leading provider of people transportation services in Canada, we are committed to doing our part to support positive environmental and social outcomes within the communities we serve.
Our Mission, Vision, and Core Values provide the framework that underpins our ESG approach. In conducting our business, our Core Values serve as a set of principles that define us as an organization, guiding every action and decision made by our people and informing and supporting everything we do.
Mission
To exceed customer expectations by employing talented people who share in the dedication of a company committed to Safety and Service.
Vision
We will grow a sustainable people transportation company through innovation, relationships, and our core values.

Our ESG Commitment
With our vision to grow a sustainable people transportation company, we believe that the integration of ESG factors into our corporate strategy is fundamental to our long-term success. Driven by the dual global imperatives to address climate change and achieve the UN Sustainable Development Goals ("SDGs"), we recognize the vital role that the transportation sector plays in enabling the transition to a low carbon global economy and in driving sustainable real-world outcomes. Through our ESG Commitments, safety will remain our first core value, and is at the heart of all we do.
We also recognize that transparency and accountability is critically important to drive meaningful results. To this end, we are committed to adopting leading ESG reporting frameworks, such as the Sustainability Accounting Standards Board ("SASB") Standards and the recommendations of the Task Force on Climate-related Financial Disclosures ("TCFD") to provide this transparency to our key stakeholders.
Our ESG Approach
Our approach to ESG is guided by the following strategic pillars. These pillars are focused on the ESG risks and opportunities that we believe have the greatest potential to impact our value and performance, as determined by a formal ESG materiality assessment. These pillars are of the utmost importance to our key stakeholders, including employees and customers.
Continue to strive for health and safety excellence for our people and passengers through our Safely Home program
Support our people to foster an inclusive workplace culture and maintain a healthy, engaged, and diverse workforce
Strive to reduce greenhouse gas ("GHG") emissions across all our lines of business
Seek opportunities to improve our governance structures to enable the effective oversight and management of our material ESG factors
Strengthen our relationships and ties with the communities in which we operate, including our Indigenous partners and stakeholders
To support these strategic pillars, we expect that everyone at all levels of the organization embody the responsibilities and commitments shared in this document. We expect our senior leadership team, onsite managers, supervisors, employees, and, to the extent feasible, contractors of PWT to support our objective to integrate ESG into our business by upholding our commitments to:
Enhance our understanding of the impacts of ESG across our lines of business and integrate ESG factors into our long-term strategic planning
Ensure sufficient budget allocation to maintain regulatory compliance on ESG factors and meet the evolving needs and expectations of our key stakeholders
Aim to capture ESG opportunities, including assessing and deploying new technologies to improve our ESG performance
Governance
PWT's approach to ESG is underpinned by a governance framework that enables effective oversight and management of ESG risks and opportunities. The CEO has oversight responsibility for reviewing ESG-related management strategies, performance, and investment decisions related to ESG, including those related to climate change. The President and COO is responsible for ESG and has the highest level of management accountability for ESG issues, including climate-related risks and opportunities, and reports to the Board of Directors on ESG-related matters semi-annually. We are committed to maintaining strong governance structures that incorporate ESG considerations and, over time, bolstering our governance structures to exemplify leading ESG practices. Our Safety Council and Maintenance Excellence Committee will remain foundational to elements of our management and oversight of  safety and service as a core business and ESG priority.
Risk Management
We are committed to enhancing the integration of ESG  risks into our risk management processes to ensure that the unique and evolving nature of ESG risks, including climate-related risks, is appropriately assessed. Moving forward, we will leverage the results from our bi-annual ESG materiality assessments to help us identify and mitigate ESG-related risks over the short, medium, and long-term, and supplement efforts underway to embed ESG across PWT.
Metrics and Targets
We are committed to collecting, monitoring, and disclosing key ESG metrics to provide insight into our ESG performance and progression. Work is currently underway to enhance our disclosure on key metrics related to the ESG factors that have the most potential to impact PWT, as identified by our 2021 ESG materiality assessment. These metrics will be informed by the SASB Standards and the TCFD recommendations and will be provided in future disclosure.
As we continue to improve our ESG data collection and reporting processes over time, we will further evaluate the feasibility and relevance of setting ESG targets to ensure that we are accountable for advancing our ESG strategy over time.
Reporting and Disclosure
We will strive to continually improve our ESG and climate change reporting to our key stakeholders to enhance transparency on our ESG risks and opportunities, strategy implementation, and overall performance. As leading standards and frameworks for ESG- and climate-related disclosure, we aim to align our future disclosures with relevant SASB Standards, as well as the TCFD recommendations using a phased approach over time.